Ashes Betting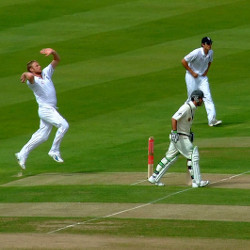 Test Cricket as a whole has enjoyed something of a rebirth and ironically, that could be down to the introduction of T20, which has brought in a whole new audience to the game. Teams across the world are strong and will provide a competitive series but you just can't beat The Ashes when it comes to drama and excitement.
Played between England and Australia, The Ashes is the oldest International Cricket Competition on the planet and betting on cricket in general always hots up when these two foes clash.
History
Although England and Australia first contested a Test Match back in 1877, the games became known as The Ashes some five years later when a spoof obituary mourned the death of English Cricket. The notice appeared in the Sporting Times and stated that, following a humiliating defeat in the 1882-83 series, "the body will be cremated and the ashes taken to Australia".
The Ashes were born and a tiny terracotta urn produced as the trophy which these two sides have played for ever since. In recent times, Australia had been very dominant as they held the series for 18 years but following England's memorable triumph in 2005, betting on the Ashes is currently between two very competitive nations.
Ashes Betting Options
Naturally you can bet on the outright Ashes winner and you can also stake on each individual match. Usually, there are five tests played across several weeks and in addition, you can bet on the correct series score at the end of those games.
Top batsman on first innings has always been a very popular side market and now that these teams are equally strong, there are lots of picks on both teams. England and Australia have young sides with batters who may well be around for many years and in the English camp, the likes of Joe Root, Ben Stokes, Jonny Bairstow and the skipper Alastair Cook could be the ones to watch.
Moving across to Australia and you have Captain Steve Smith, David Warner, Joe Burns and Usman Khawaja among a talented group of players who can all deliver a profit in the Top Batsman Betting.
It's a similar story for top bowler although some of those featured are nearer to the end of their careers. For England, James Anderson is the prime example – the country's all-time leading wicket taker in tests, the Lancashire seamer may not be around for much longer.
There are always alternatives and a good tip is to stay away from the spinners on first innings. In subcontinental countries such as India, the slower bowlers may well make a difference from the start but for England and Australia, they are unlikely to have a major contribution until the second half of the match.
Niche Markets

There are plenty of other Ashes betting markets to choose from and depending on which bookmaker you play with, the selection may be a very extensive one. Total runs scored on first innings is one area for staking and some bookies may let you speculate on whether a double century will be scored in the game.
Alternatively, some operators may quote markets for a certain player: will he score a century in the game or not? Once again, the availability of markets will vary depending on which bookmaker you use so if you do want a bigger list of options when betting on the Ashes, this is an important point to keep in mind.
Holders
England won a thrilling series by three tests to two when these two sides last contested the Ashes back in 2015. On home soil, the English have now won four series in a row since that thrilling set of encounters in 2005 so this is a clearly an advantage for Alastair Cook's men.
When the games head to Australia however, the Baggy Greens have the better of things so overall, home advantage has a big role to play when you're trying to pick a winner.
The Ashes will return to Australia at the end of 2017 when the two teams meet over another five tests. Can the holders retain the trophy or will the Aussies continue their fine run of form on home soil? Cricket fans can't wait to find out.