Cricket Betting
A Little Cricket History
The origins of the sport can be traced back to the 16th century with the first recorded instance of a game taking place in England in 1597. By the 19th century, it had been an organised sport for some time and it was just about to take off at an international level.
While North America lays claim to staging the first international game between two countries, the first test match is recorded as taking place between Australia and England in 1877.
We're closing in on 150 years of international cricket and the game is more popular now than it's ever been. The advent of T20 has been a big driver for the sport with world class leagues such as the IPL drawing more crowds than we will ever see at test matches. It's a time where cricket betting sites are busier than ever before so what can the average punter do in order to take advantage?
Events
International Cricket Betting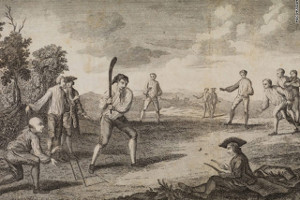 England and Australia play for the Ashes – a tiny urn that is said to hold the Ashes of a bail that was used in an early test match between the two sides. For a lot of enthusiasts, this battle is still considered to be the pinnacle of the game and we can find more odds for the Ashes than with most other international matches.
But it's not just about England and Australia. In the modern day, the test match family now includes India, Pakistan, West Indies, New Zealand, South Africa, Sri Lanka, Bangladesh, Zimbabwe, Afghanistan and Ireland. It keeps growing and we now have a packed international calendar.
Sides also play one day international cricket – both in a 50 over and 20 over form. The last 50 Over World Cup in 2019 was won by England and this was a boom period for bookmakers focusing on the sport. There is a 20 over World Cup scheduled to be played in Australia in 2020 and this is due to attract even more interest.
The game is thriving and there's never been a better time to get involved.
County Championship Cricket Betting
On a more sedate level, county championship sport doesn't quite attract the same type of support from fans. Crowds are much smaller but sports bookies do get involved with the county game in England and some good value can be found in the markets at times.
In test matches and in first class games in the county championship, there are three options in the result markets. Punters can bet on either team to win it and they can also take a bet on the draw.
Lots of side markets will also be available whenever the competition is underway. The County Championship generally starts in early April and it goes through to September and with lots of matches between 18 counties, there is plenty of opportunity to find some wagering value.
How to Bet on Cricket?
When you bet, it's important to take into account the three forms of the game. There may be different markets for test and first class cricket than you will find in the limited overs formats and we'll explain that in more detail as we move ahead.
As with any sport, research can be key to winning profits and it pays to study form and head to head results. Choosing the right bookmaker is vital and we will show some recommendations shortly. In the meantime, let's take a look at some of the markets you can bet on.
Markets
To Win the Toss
In any sport, we often talk about 50/50 calls and we couldn't get a better example than this. This is literally a split call between heads and tails and while there is that obvious element of chance, to win the toss is actually a very popular market.
In some games, most notably the English County Championship, there is no toss but for most matches there will be a spin of the coin to decide who bats and bowls first. The odds involved are set by most bookmakers at 1.91 for both heads and tails. If you prefer, that converts to 91/100 and it means that you can't make a profit by backing both.
As a slight twist to this bet, some bookies let you bet on To win the toss and win the match. It obviously carries a higher price for those that are interested.
Run Scorer Odds
Bookmakers also offer betting odds that are focused on the batsmen in each game. These can come in for all forms of the game, from test cricket all the way down to T20. The point to remember with test and first class version is that top batsman markets will only apply to the first innings.
The sportsbooks will look to publish a choice of markets for run scorers. There will be top batsman markets for each side and there will be a separate, overall bet for the highest run scorer in the entire match.
This is an interesting market and one where there can be some good profits at times. Middle order batsmen tend to be priced at around 7/1 – 8/1 so there are nice returns when those drop in.
As an alternative to these markets, you may find run scorer betting odds attached to individual batsmen. To use some of the best cricketers from 2020 onwards as examples, there may be options to bet on whether Virat Kohli will score 50 or Joe Root will score a hundred in a certain game.
Run scoring carries a great range of different markets from the bookmakers and there's plenty to get on board with.
Bowler Betting
Top bowler wagering works in a very similar way to the batsman markets that we saw in the previous section. These can also be available for all forms of the game and once again, in test and first class versions, the bet is for the first innings only.
We're looking for the bowler who we think is going to return the best figures. If two or more bowlers are tied in terms of taking the most wickets, then the winner will be the player who has conceded the fewest amount of runs.
This is another market where we may see a separate set of cricket betting odds for the best bowler in the match and we could also find options that relate to specific players. For example, if we have an international T20 match, you may be asked to bet on how many wickets you think Mitchell Starc or Jofra Archer will take.
There's lots of options available for individual players both in pre-match and live cricket betting and this is a busy area for the bookies.
Team Score Odds and Fours and Sixes Betting
Wagering on a team's score is one of the oldest side bets around and it's run well into the digital age. Bookmakers will set a number of lines and it's the job of the customer to decide whether to bet under or over.
For example, in a T20 game there could be a total runs line of around 360.5 and you will then have to assess whether more or less runs will be scored in the match. That figure relates to a combined total for both teams but you may also find separate total runs markets for each of the two sides.
For those who take things very seriously, there are some bookmaker sites who will allow you to bet on how many runs are scored in a specific over. This can be found among the in-play markets but there are pre-match options too. Such markets would only appear in limited overs matches and not for test and first class.
When it comes to live betting, you may also be able to bet on how many runs will be scored in the following session.
The obvious way in which teams can boost their run rate is by hitting plenty of fours and sixes. There is a good choice of markets related to boundaries, although, once again, they tend to be restricted to limited overs cricket.
A simple option to start with is the bet on who you think will score the most fours in a match. There will also be a second market for most sixes. Bookmakers who list this type of market will publish a price for each side and then there will be a third option – for the tie.
There can often be some value in this bet as the side who scores the most sixes or fours isn't necessarily the favourite in the straight result betting. In fact, the outsiders can often come through to deliver a profit, particularly in T20 which remains the hardest form of the game to predict.
As a separate option to Most Fours or Sixes, you can also expect to be able to stake on how many boundaries will be hit in the game. Once again, this bet is prevalent in limited overs cricket and there will be separate markets for fours and sixes.
This is another instance where the bookies will draw a set of lines: For example, there could be a line for total sixes at 18.5 and you will be required to stake Over or Under.
Runs and boundaries are the focal point of any cricket match and there are lots of markets attached to them.
In-Play Cricket Betting
Matches can be lengthy processes. Test match cricket is scheduled to be played over five days while the county championship has a four day window. Even a T20 game can go on for more than three hours so there is a lot of scope for live betting.
We've already touched on the in-play markets through this preview but let's now take a look in greater detail. When you find a live game, there will be the same choice of markets such as match result, most sixes, top batsman, top bowler and more.
In fact, as with other sports, live betting may also offer markets that you can't find in pre-match such as which batsman will be the next to lose their wicket.
While it can be a slow paced game at times, that doesn't mean that live wagering has to be pedestrian in its nature. Markets can change very quickly so you need to have a sharp mind and have the right equipment, including a mobile phone, to keep up with the latest cricket betting odds.
Cricket Betting Sites
Coral


Bet £5, Get £20
T&Cs Apply
That's an instantly recognisable name and it's one that earns respect across a wide range of sports. This sport has been an important part of the Coral set up since they were first established and that importance now extends into the present day.
Like all of the outlets on this list, Coral have a great combination of choice and value that comes through a range of  markets with some exceptional value. They are one of the first bookmakers that many customers sign up with and there are very good reasons why you might want to use Coral to bet on the sport.
Unibet

Welcome offer using £5Visit Unibet
T&Cs Apply
One of the reasons why the community like Unibet is down to their live betting operation. Not only does the sportsbook have a great set of in-play markets, Unibet also provides what is arguably the best live streaming service out there.
Unibet sponsors a number of cricket matches and clubs and that's a good sign that they will be taking the sport very seriously. We've established that they are a great choice in terms of live betting but the pre-match service is excellent too. With competitive odds and a seriously good range of cricket markets, this is another operator that you should be looking to add to your list.
Ladbrokes

Bet £5, Get £20
T&Cs Apply
Like Coral, Ladbrokes are a bookmaker site who have been with us for a number of years and that longevity helps to build trust among customers. The sportsbook does not simply rely on its reputation however and they work hard to keep account holders happy from the moment they sign up.
Offers and promotions are key to the success of this operator and while they may not be specific, there are deals that can be used on any sport. Ladbrokes also have competitive cricket odds but they tend to publish more price boosts that can lift the value even further.
GentingBet

Up to £25 Free BetVisit GentingBet
Key Terms : New Customers only. First settled bet £/€10 (£10 E/W+) – £/€25 (£/€25 E/W+) at odds 2.0+ qualifies. If first settled bet loses, free bet credited within 24 hours of bet settlement, use within 7 days, Stake not returned. Full T&Cs Apply.
Of the less familiar sportsbooks that are available right now, GentingBet comes highly recommended. They have just made their way onto the main odds comparison sites so we can now see just how much value we can gain from their everyday pricing.
GentingBet are exceptional with those odds and, once again, this is an operator that provides us with a seriously good set of betting markets. Live betting is also very popular with this operator and while they may be better known for their casinos, we think that the Genting sportsbook is one that can be taken very seriously.