Darts Betting Sites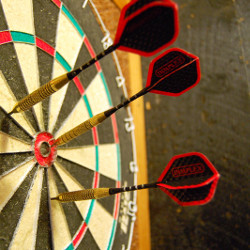 Darts has evolved from a mere pub pastime to become a serious sport and millions of pounds are wagered each year on the major tournaments. It's been an interesting journey from a game that developed from the working men's clubs of the 1960s and 1970s and in the present day the bookmakers love it.
Television was initially slow to pick darts up as it was a tricky sport to showcase. Without split screen technology you couldn't focus on the board and the player at the same time but developments in that area have helped the sport to progress.
Now, darts is televised all year round but which of the best darts betting sites has moved to embrace it?
Backing your Sport
You can tell that betting sites are taking darts seriously by the amount of sponsorship money that is thrown at the sport. Recently, the likes of Ladbrokes, Betway and William Hill have become involved in major darts events such as the Premier League or the World Championship itself.
Darts is split into two divisions with the elite players involved with the PDC board and those who are bubbling under plying their trade with the BDO. Naturally, most of the sponsorship money is given to the richer PDC, but the BDO isn't entirely ignored and you can find darts promotions and extensive betting markets for both divisions.
Any Offers on Darts Betting?
Promotions can be a little rare for events but if you look at the really big darts tournaments such as the World Championships in January and the Premier League which begins during the following month, you should find a tempting selection.
The sponsors involved such as Betway and William Hill may have the best darts deals but most bookies like to get involved and it's common to see offers from Paddy Power, Coral, Ladbrokes and more. Overall, promotions from UK betting sites can focus more on football and horse racing but if you look hard enough, there are deals to be had.
Choice of Darts Betting Markets
Every UK bookmaker will be quoting sports markets for darts tournament winner and for the individual matches so you'll have lots of choice but what about the side betting? This is less popular but can give us a little extra value at times so side markets are worth following.
Firstly, you need to think about what side bets you could actually place on a match or tournament. For match betting you can take a punt on which player will score the most 180s and this is where some bookies such as SportingBet and Winner are absent from the main darts odds comparison sites.
However, there is still a huge choice with William Hill, Ladbrokes, Betway, Paddy Power, bet365 and more all getting involved.
If we look at correct score betting then the choice is reduced but once again, all of the major names are there so if side betting on darts is likely to be important to you, then it's better to stick with those familiar providers.
The same principle applies to live darts betting and as you would expect, bet365 are among the better betting options here. This bookmaker is the king of betting in play with more markets on offer than other bookies and the sport is no exception.
But once again, live betting is carried by other operators and will still be quoted when it comes to the larger, televised events. William Hill, Coral, Betway and more will all have betting in play options so unless you want every single darts match covered, there is no reason to switch your allegiance.
Bookmakers
Unibet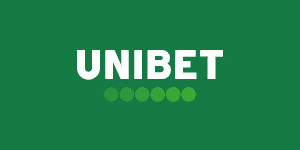 Like a number of our recommended bookmakers, Unibet are involved in darts sponsorship but they tend to do it in a bigger way than most. They've given their backing to some big tournaments over the years and, at the time of writing, they are the principal sponsors to the European Championship and the World Grand Prix.
That is a clear sign that they take darts seriously and there are benefits for customers too. Everyday odds are competitive and there are more markets than you will find with many other sportsbooks. A comprehensive set of live streaming services adds to the appeal and it helps to make Unibet one of the best bookmakers around.
BetFred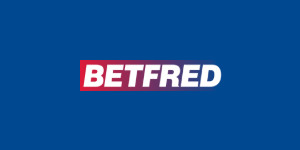 When darts was just a minor televised sport in the 1970s, BetFred were a big supporter of the game and that loyalty has now extended into the digital age. They are also active sponsors within the sport and it is important to show backing if you want to attract a good customer base.
Like all of our recommended bookmakers, BetFred offer a good choice of bets and they may well have some excellent offers and promotions for the biggest events on the circuit. Those promos can add to the value of excellent everyday odds in all available markets so once again, we have a great all-round bookmaker.
Ladbrokes
The names on the list are established brands in the industry and that's no coincidence. Darts may have exploded as a sport since the birth of the internet but it's been around for decades and a number of operators have been loyal supporters since it first began.
Ladbrokes can be genuinely included on that list: They have also sponsored major tournaments in the modern day and have attached a range of valuable customer promotions to those events. Even if they aren't sponsoring, you can look forward to some excellent deals, including price boosts which can enhance already-competitive odds.
Live betting markets are very active here so, if you like your in-play darts bets, this is a good site to check out. However, whether live or pre-match, we believe that Ladbrokes should be added to your own list of preferred bookies.
William Hill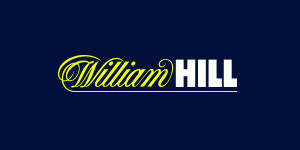 As an established brand, William Hill are always going to get on any list of recommended bookies and they fully deserve to be here. We have mentioned sponsorship throughout this part of our round up and Hills have been long-term backers of the biggest tournament of all – the PDC World Championship.
Offers and promotions should intensify whenever the Championship comes along but William Hill's markets carry exceptional prices at all times of the year. They are frequently up there with the best odds for result betting and side bets and for value alone, they should be one of the first sites to check out. Like all the bookies on this list, there is an active live betting section and a great choice of markets and this all helps to make William Hill an exceptional darts bookmaker.
Darts Events
Premier League Darts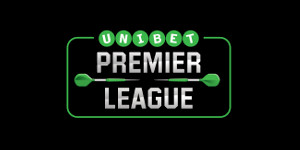 As the interest in televised darts grew, the sport's main governing body – the Professional Darts Corporation – decided that more tournaments needed to be added in order to meet demand. This competition was therefore added to the schedule in 2005 and it's one that works a little differently than most.
Following closely on the back of the World Championships, the PL will generally start in February and is played out over a number of weeks. The world's best darts players are brought together and, as the name suggests, they battle it out with each other on a league basis.
At a certain point in the competition, the bottom two players are eliminated and the remainder continue. Eventually, we will decide on a top four and then we move to a knockout stage on finals night. As of 2020, the PDC Premier League is played out over 16 weeks between February and May so it is quite a gruelling tournament as it fits in around other events.
Not all players welcome the added travelling but it is a lucrative and prestigious competition and it's one that's embraced by the bookmakers too. The best bookies will always have an active set of markets and, in such a lengthy tournament, there is lots of value to be had if you make the right picks.
World Darts Championship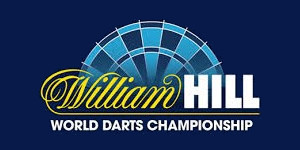 This is the big one: It's the one that all players want to win and the accolade confirms that they are the best in the world – for a year at least. The sport has been around for a long time so it is, perhaps, a little surprising that the World Darts Championship didn't come along until 1978.
At that point in time, there was only one governing body in the sport and that was the BDO. The event carried on in its existing form for many years but by the mid-1990s, the sport was faced by the notorious 'split in darts'.
The situation requires a lot of time and space to explain it but by the end of those events, we were left with two organisations – the newly-formed PDC and the original BDO. In general, the PDC hosts the best players and provides the biggest prize money and the widest range of tournaments so, in the modern day, when we talk about the Darts World Championships, we are generally talking about the PDC.
Once the split had been confirmed, the very first PDC World Championship was held in 1994. The original winner was Dennis Priestley but he subsequently gave way to the incredible genius of Phil Taylor. 'The Power' won the world title in 1995 and would go on to claim an amazing eight straight trophies through to 2002. By the time he eventually retired, Taylor had claimed 14 PDC world titles and that's a record that is likely to stay in place for many, many years to come.
The current version of the world championship has a settled home at Alexandra Palace in North London and a noisy crowd is guaranteed across Christmas and New Year when the tournament is played out. It also has a settled format with the best players needing to win seven games to claim the world crown. It's all done on a knockout basis to add to the thrill of competition.
Needless to say, this is when the markets will be at their busiest with odds sharpened to give the major darts betting sites the edge. Bettors can also expect to see a larger amount of offers and promotions at this time so it's really worth looking out for the PDC World Championships.
World Matchplay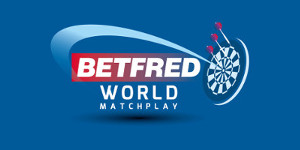 The World Matchplay is another tournament that came along in 1994 to mark the birth of the Professional Darts Corporation. It's considered by many to be second only to the world championship and that will ensure a strong field in each and every year.
To qualify for the world matchplay, players have to be included in the top 16 in the world order of merit and they are joined by 16 additional qualifiers from the world tour. Once the final 32 have been confirmed, there are seeds and a draw and there are five rounds in total, to be played on a straight knockout basis.
That's a fairly standard format but the world matchplay is slightly different as it is something of a marathon. The very first round is the best of 19 legs and in the final, the trophy is decided on a lengthy best of 35 basis. When a tournament is so long, shock results can be rare and this is the reason why the World Matchplay is a popular option for the wagering community.
This is another tournament to have been dominated by Phil Taylor over the years. The Power won a staggering 16 World Matchplay titles in his time so it's rather fitting that teams are now playing for the Phil Taylor Trophy.
Darts Masters
In contrast to the lengthy tournaments that we've covered so far, the Darts Masters is a short, sharp tournament that involves just 16 players. The top tungsten throwers assemble towards the start of the year in another competition that is played on a straight knockout basis.
Ladbrokes have been closely involved in sponsoring this competition so this would be one of the best darts bookies in terms of any offers and promotions. However, it's another popular tournament that every sportsbook likes to get behind.
This is a more recent event and the first Darts Masters was held in 2013. In the first eight years of that competition, Michael Van Gerwen dominated with five wins and to date, no other darter has won it more than once.
BDO World Trophy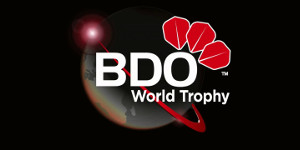 We have focussed on the PDC in this round up but we really shouldn't forget the BDO. They have their own version of the World Championships and one of the biggest competitions outside of that main event is the BDO World Trophy.
It's a recent addition to the circuit, having been first held in 2014 and it's a major event with a lot of prestige attached to it. 32 players take part including the top 16 in the BDO rankings and they play until a best of 15 final. No player has won the event more than once so it can be tough to call, meaning that there is some value in the darts markets. Because of that, all of our recommended darts betting sites take the BDO World Trophy very seriously.
Long Term Darts Bets
When it comes to tournament betting, there is a huge choice in terms of side markets and the ongoing Premier League is a good example of this. Here, you can speculate on whether a player will make a nine dart checkout, a maximum 170 checkout, the highest checkout or you can take a punt on the nationality of the Premier League tournament winner.
Other betting options are more obscure and, for instance, you could back a Dutch player such as Michael Van Gerwen or Raymond Van Barneveld against the rest of the field. Less popular bets such as this one aren't covered by all the darts betting sites but if you do want something a little more 'niche' then the likes of Coral, bet365 and Betfred are the ones most likely to be declaring prices.
Best bookmakers have always provided markets for darts but like most sports, these have grown in line with the rise of the Internet and 24 hour satellite TV. Now you can watch darts all year round and there are odds being quoted for every event whether it's televised or not.
All the best betting sites will offer some form of sports betting markets but some take it more seriously than others and as usual it's mostly the big names that provide the wider range of options. If it's promotions, free bets you're after then look to the World Championship or the bookmaker who is sponsoring that particular tournament as they are more likely to have the best offers.
Overall, darts is great to watch and betting on any of the markets could enhance your enjoyment of this growing sport.