Get Involved with Coral's all new Acca Club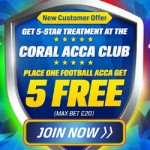 Coral have always been a very active bookmaker when it comes to Acca promotions but their new Acca Club sets a very high standard. It's available for new customers who sign up and stake an opening multiple of £20.00 and in turn, that triggers no less than five additional free bets.
In the first instance, you should open an account with a few basic details and then place that initial straight line multi. Remember, the stake must be up to a maximum £20.00, you need a minimum of four selections and the odds for each of those selections must be 1/2 or longer.
Bet number > use within
1 > 7 days
2 > 14 days
3 > 21 days
4 > 28 days
5 > 35 days
As soon as that bet is staked and accepted, your first free bet token will appear in your account and you have 7 days in which to use it before it expires. The remainder of the freebies follow in turn and that 7 day requirement carries on so here is the timetable for those free bets.
Once again, those free bets much be placed as a straight line accumulator with at least four selections at minimum individual odds of 1/2. This makes things easy to remember as all six stages of the process follow the same stipulations.
Aside from this promotion, Coral also have a Super Acca deal which provides a better level of insurance than many similar offers. They offer competitive prices on football as a whole and are bringing in one-off specials all the time so they are definitely a bookie to follow.
As far as opening deals are concerned, this is certainly one of the better ones so sign up, and claim a generous set of five free multiple bets.