Six Nations Betting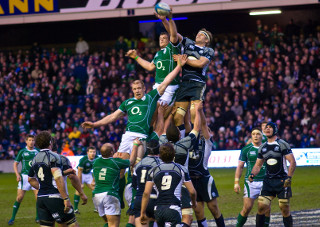 The Six Nations is the relatively new name for one of the oldest sporting tournaments in the world. Originally known as the Home Nations, this featured international rugby teams from England, Ireland, Scotland and Wales and it began life way back in 1883.
France came along in 1910 and the next major happened in 2000 when Italy were admitted to make it the competition that we all know today.
So if you are looking to take a bet on the Six Nations, what do you need to know?
Greatest Success
As of 2016, Wales are the most successful team in the overall tournament with 26 outright wins and 12 shared titles. Next up are England with 26 outrights and 10 shared while France, despite their late entry to the competition, have an impressive 17 clear victories and 8 shared trophies.
But those stats date right back to the end of the 19th century when the Home Nations tournament began so are they really relevant today? Since entering in 2000, Italy have yet to win the trophy: they are an emerging side who have recorded some notable match victories but it could be some time before they lift the Six Nations itself.
Scotland have also struggled since the start of 2000 and have taken the Wooden Spoon on four occasions since the start of the new Millennium. Their last tournament win came in 1999 so a bet on the Scottish rugby union side may not be your wisest option just yet.
Over the last 15 years, the title has been split relatively evenly between the remaining countries – England, Wales, Ireland and France – so this is a competitive competition and the outright six nations tournament betting can be seriously tight.
Markets
So you can bet on the overall winner and there are busy result markets for each of the games in any Six Nations year. Tournament betting also provides a number of side options such as top try overall try scorer and you can also punt on whether any team will complete the Grand Slam by winning all of their games.
Not all bookmakers offer these side options so if they are important to you then you should pick your partner carefully. Taking that top try scorer as an example, around 60% of bookies quote a market and these would typically include bet365, Coral, Ladbrokes, Paddy Power and Betfred.
It's a similar story for other niche markets such as Team to Score Most Tries so check that your bookmaker has a wide list unless you are just happy with straight result betting.
When it comes to Six Nations match betting, you can naturally bet on a win for either team or a tie – which is extremely rare in Rugby Union – and is typically priced at around 20/1.
Side markets are open but once again, their availability differs between providers. Four days ahead of the England v Wales clash in March 2016 for example, around 50% of bookies were quoting odds on First Team to Score and these included Paddy Power, Ladbrokes and William Hill.
Other, more obscure bets see more bookmakers drop out so if you want a wide selection, the most consistent declarers seem to be Paddy Power and Ladbrokes but once again, if you're only interested in the result then this won't pose a problem.
Any Offers?
Bookmaker promotions can be a little quiet when it comes to the Six Nations but if you're prepared to look hard enough then you can certainly locate the occasional offer. In 2016, Paddy Power had a deal in the first try scorer betting whereby, they would double your odds if your selection crossed the line first and then went on score another try later in the game.
Betfair's first try offer required the same set of circumstances but your reward in this instance was a free bet. Obviously these may not apply for future tournaments so do check the current news feeds for details.
The Six Nations is a huge tournament for Northern Hemisphere Rugby and it always kicks off a big year of sport overall. Bookmakers have embraced it and there are lots of Six Nations betting opportunities where a small stake could enhance your enjoyment of this historic competition.