Irish Greyhound Derby 2018 Betting and Odds
Please keep in mind that all odds mentioned are accurate at the time published on 11/09/2018 12:38 pm and are likely to change.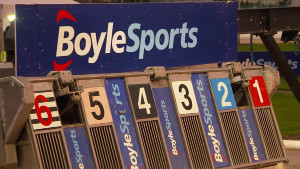 Racing has already begun in the quest to win the Boylesports Irish Greyhound Derby of 2018. The action began on the 17th of August and will continue all the way up to the final, which takes place this year at Shelbourne Park on September 22nd.
At the time of writing, all four quarter finals have taken place and the semis will get underway on September 15. That means that we still have twelve dogs in contention to win the big prize later in the month so let's get straight on and see if we can pick our winner.
Out in Front
It's tight between the top two but the favourite with most bookmakers is Slippy Cian who is available at 4/1 with Ladbrokes and also with the race sponsors Boylesports. This dog came home in first place in his quarter final but was only narrowly ahead of the third favourite Totos Park who is on offer at 6/1 with Boylesports.
In between those two dogs is Jaytee Taylor who is available at 5/1 – also with Boylesports. That may be a figure to avoid because, while this dog qualified safely in second place from his quarter final, he was behind the leader after starting out as 5/4 favourite in a race that was reduced to five dogs following the withdrawal of Jumeirah Charm.
There's a gap behind these names and many are of the opinion that this could be a 'three dog race' but we'll certainly assess the credentials of the remaining runners.
Chasing Pack
The biggest shock in the quarter finals saw Newhall Missile come through in first place in heat three after starting the race as a 7/1 shot. It was an impressive run and this John Browne trained dog has ten wins in his career but the bookies don't seem to be impressed.

Newhall Missile is currently available at odds of 12/1 with Ladbrokes and Coral to win the Irish Greyhound Derby but that may be a tempter following that quarter final result.
The remaining quarter final winners were Cabra Hurricane in heat one and Clona Blaze who, as an Even Money shot, carried the shortest price of all dogs in that stage of the competition. As we move forward to the semis, Cabra Hurricane is way out at 14/1 with Coral in the outright Irish Derby markets but Clona Blaze is shorter and may be good value at 8/1 with Boylesports.
Completing the Picture
We've mentioned half of the dogs that remaining in the running for the 2018 Irish Greyhound Derby and it's likely that we've already mentioned the outright winner but for the sake of balance, here are the rest of the odds.
Both Ladbrokes and Coral have both Clonbrien Hero and Crossfield Will available at the same odds of 10/1 while Cabra Hurricane is further back at 14/1 with the same two bookmakers. The market then finishes with Drive on Tipp at 16/1, Kilgraney Master at 33/1 and the rank outsider Ballyanne Sim at 50/1. All of those prices come from Boylesports.
Out of the outside punts, it could be worth looking at Clonbrien Hero who came in second at 4/1 in the race where he and Newhall Missile upset the favourites. However, it's back to the top half as we look to find the winner.
Verdict
Punters may want to wait until the semi finals are out of the way in case there are any more shocks but there are some good prices available now and for those dogs that do go through, these figures will only shorten in the lead up to the final itself.
At this point in time, mosty punters will look at the top three of Slippy Cian, Jaytee Taylor and Totos Park and either one looks to have the pedigree to come through and take the trophy. Slippy Cian has 11 wins from 18 races to date and has only finished outside of the top three on one occasion.
Moving on to Jaytee Taylor and this is a dog with less experience but has achieved a respectable record of six wins and four second placed finishes from 13 outings to date. But the dog that really interests us is Totos Park who was a very narrow second to Slippy Cian in their quarter final. Trained by Graham Holland, this runner has a far more mixed record than the other favourites with nine wins from 18 but tends to rise in the bigger events. At 6/1 there is some value there and it's also worth noting that while that overall career isn't necessarily outstanding, the record is improving considerably and six of those victories have come in the last seven races.
Newhall Missile may be an option for a place but his quarter final result was a bit of a freak outcome all round so we'll stick to one tip in the lead up to the final of this year's event.
Best Bets for Irish Greyhound Derby 2018: