The Turner Prize 2018: Betting and Odds Preview
Please keep in mind that all odds mentioned are accurate at the time published on 20/11/2018 4:17 pm and are likely to change.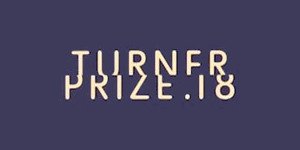 The Turner Prize is an annual award that has been handed out since 1985 and is one of the most important events on the art calendar. It has gained notoriety on several occasions as it often rewards conceptual artworks and that's a discipline that continues to divide opinion among members of the public.
This year, the award will be given on December 1st and once again, there is a small set of bookmakers looking to offer odds on what can be a popular market for the novelty betting community.
Let's take a look at the nominees and see if we can pick out some winners.
Famous Four
At this stage of the competition we have just four nominees for the Turner Prize so that could make things easier for punters. We'll assess each one in greater detail shortly but the works in question are, in no particular order, Autoportrait by Luke Willis Thompson, Bridgit / Stoneymollan Trail by Charlotte Prodger, Tripoli Cancelled, Two Meetings and a Funeral by Naeem Mohaiemen and the snappily named 77sqm-9.26min, Counter Investigations by a collective known as Forensic Architecture.
It's a notable year because these are all films and there are no paintings or sculptures in the final four but what do the bookies make of this curious mix?
Odds Round Up
The industry has been a little slow to embrace the Turner Prize and at present we just have prices in from William Hill and Betway. Others may show up in the days leading up to the award but we know that those two will always be competitive and these odds will be indicative of anyone else who decides to get on board.
The favourite right now is Forensic Architecture and while Hills go Even Money, Betway offer slightly better value at a best of 7/4. It's a tight market from one to four and behind the leader, William Hill go 3/1 on Naeem Mohaiemen while Luke Willis Thompson is available at 100/30 with Betway.
The market remains close and you can pick up the outsider Charlotte Prodger at odds of 9/2 with William Hill. Those are the runners and riders but who is most likely to pick up the big award at the start of December?
Verdict
It may possibly help to have some specialist art knowledge but for those who are new to this type of market, we can start by looking for any trends among previous winners. The award last year went to Lubaina Himid and this was a historic occasion as she became the first black woman to claim the Turner Prize. Her work tackled the contentious issue of slavery and it could be that 2018's champion taps into something with a similar theme.
So what are the works that have been nominated for this year's award? The favourite, Forensic Architecture may well fit the bill here as they are a company who uses video to uncover human rights violations. It seems in recent years that the judges might be looking to get behind a cause such as this rather than simply handing out the accolade to a piece of art that stands alone with no theme to get behind.
Among the other contenders, there isn't too much love in the media for Naeem Mohaiemen and his entries. Tripoli revisited is a film that runs for 93 minutes and the most vitriolic of critics clearly didn't seem to enjoy a single second of it. There is, however, the political theme here and the kind of message that the judges seem to fall for.
Charlotte Prodger gets some rough treatment too for her entry. Bridgit took an entire year to make and the sum total of that work is a 33 minute movie which is filmed entirely on iPhone. The piece documents the writer's coming out and the reception received in a rural Scottish village and it has been described as both dull and self indulgent.
That just leaves Luke Willis Thompson who has also entered a film. It's on a loop and highlights the 2016 murder of Philando Castile. It's not the most uplifting set of nominees ever seen for the Turner Prize but we're here primarily to see if we can make a profit from the betting markets and not to necessarily offer opinions on the subject matter.
Forensic Architecture leads the market and we've also tended to see in recent years that the odds setter rarely get this one wrong and the favourites are likely to rise to the top. Taking the two dominant trends into account – lack of surprises and a winner who backs a worthy cause – we're going to make an obvious tip here which involves the favourite Forensic Architecture.
Best Bet for Turner Prize 2018:
Forensic Architecture to win at 7/4 with Betway