Mosconi Cup Betting 2017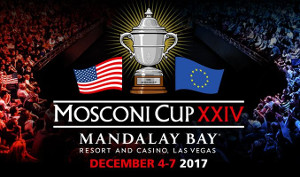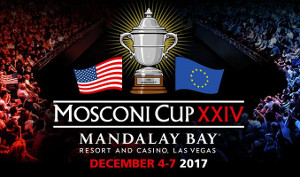 As the calendar year comes to a close, sport heads indoors for some traditional tournaments around the festive period. The PDC World Darts Championship is focused around Christmas while December kicks off with a tournament that has become known as the Ryder Cup of Pool.
The Mosconi Cup is fought out each year between Europe and the USA and it's become established as one of the most eagerly awaited competitions on the pool playing calendar. Over the years, the teams have become evenly matched and head into 2017 with 11 wins each and one tie.
But dominance has shifted between the two and current reigning champions Europe have now won nine of the last ten Mosconi Cups.
History of the Mosconi Cup
The very first tournament was held in Romford, England in 1994 and at that time was more of an exhibition event. It was introduced by Sky Sports and the Matchroom organisation in an attempt to widen the sport's reach in the UK and the teams were not evenly matched in those early days.
The European side would frequently include snooker players such as Alex Higgins who had little effect on the pool table and there have also been appearances by Ronnie O'Sullivan and female snooker players Allison Fisher and Franziska Stark.
The USA won ten of the first twelve Mosconi Cups but the game had become more competitive across Europe and the tide really turned in 2007 when the European team won in Las Vegas. Since then, they have suffered just one defeat in nine years.
The tournament now alternates between the UK and the USA and features only the best players from the US and Europe. The competition itself was named after Willie Mosconi, a legend of the game who won the World Straight Pool Championship 15 times between 1941 and 1957.
2017 Tournament
2017's Mosconi Cup heads back to Las Vegas and will be held from December 4 to December 7. Teams are starting to be confirmed and for the US, who are chasing their first win since 2009, there is a mix of experience and new faces.
Billy Thorpe will make his Mosconi debut this year in a team led by Shane van Boening who is at the tournament for the 10th time. Making up the five-man squad are Dennis Hatch, Skyler Woodward and Oscar Dominguez.
For Team Europe, we know that Ralf Souquet is back and that he will equal Johnny Archer's record of 17 Mosconi Cup appearances but at the time of writing, we await news of the rest of the squad.
2017 Odds
That European team may not be finalised just yet but the odds are already in for the 2017 renewal. Defending Champions Team Europe are the clear favourites and the best price currently available in the outright win market stands at 2/5 with MarathonBet.
Anyone looking at Team USA to claim the trophy can get the hosts at best odds of 9/4 with William Hill but can Shane van Boening and his squad manage an upset? One point that is potentially in their favour is the fact that three of this five-man team have tasted Mosconi Cup victory while debutant Thorpe won't be scarred by a run of previous defeats.
It's a small hope because Team Europe are likely to be stronger man-for-man but with some luck, and a noisy, partisan Las Vegas crowd behind them, there is maybe scope for a shock result.
Betting Options
At present only those straight win prices have been announced but there should be some additional betting options coming through as December approaches. The final winning score will be a popular if tough market and there could also be an option to bet on the winning margin for either team.
At the end of the Mosconi Cup there is an award for the tournament's Most Valuable Player and a smaller set of bookies should be looking at publishing odds for an MVP market.
Of course, we can expect result betting for the individual matches including another set of side markets such as correct score. In play betting may be a little harder to find but pool is a fast-paced sport that should lend itself nicely to live staking. Therefore, the bookmakers who are traditionally more active on in play such as bet365, 10Bet may be looking to get involved here.
The whole picture will become much clearer as the tournament draws near but those that love the sport will already be looking forward to a few days of great action over in Las Vegas. If you've yet to really discover pool, the Mosconi Cup is a great place to start as it is a tense, passionate event with the best players taking part.
And, for anyone who likes a bet, it's a competition with some good options and already there are some interesting prices in the ante post markets.