London Borough of Culture Betting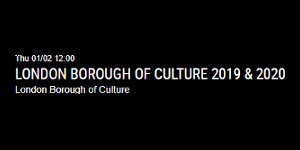 We've recently seen a very active market on offer for those areas that are battling it out to be named the UK City of Culture for 2021 but this type of award reaches out beyond countries and continents to be handed out on a regional level.
In the UK, the race to become the cultural focal point for London, England's capital, is probably the most hotly contested regional award right now and it's one where we have another small, but very interesting betting market attached to it.
Background
The London Borough of Culture is a brand new award and was launched in June 2017 by the city's Mayor Sadiq Khan. Like all competitions of this kind, the contenders need time to prepare a bid and the events surrounding it will take time to prepare so the first applicable year for this will be 2019.
Obviously we have no previous winners of this so there are no trends to consider and nobody to rule out at this stage but that does make for an interesting market among the bookies that have declared some early prices.
Contenders
The markets that have been declared give punters the chance to bet on who will be named as the London Borough of Culture for either 2019 or 2020. As this is the first year of this contest, it seems that the Mayor wants to get ahead of things by naming the first two winners so, if you bet here, you can collect if your region is given the award for either 2019 or 2020.
As for the contenders, it's a tight market but one where the Borough of Southwark is emerging as an early favourite at best odds of 6/1 with either Ladbrokes or Coral. Greenwich then follows at a top price of 7/1 with the same bookmakers and then we have a clutch of locations who come in at the same 8/1 mark.
Camden, Islington, Redbridge, Tower Hamlets and Waltham Forest all come in at that figure which, once again, is quoted by both Coral and Ladbrokes.
From that list of names, it could probably be argued that the top two are the ones with the most tourist attractions. It's not all about tourism but if a location is all about attracting a lot of visitors from overseas then they may well have a better chance of scooping the London Borough of Culture award for either 2019 or 2020.
But are Greenwich and Southwark such a big centre of the arts? In contrast, there isn't so much sightseeing to be done in the Borough of Camden but this is a big draw for the arts in general and for music in particular.
Camden hosts scores of music venues including the Roundhouse which is close to Chalk Farm station in the north, plus smaller venues in the centre such as the Electric Ballroom and Dingwalls.
Scores of local pubs also get involved with the music scene and many have been important stepping stones that have helped to launch major careers. For example, The Dublin Castle is proud to have hosted Madness in their early days,
This is a proudly cosmopolitan location and also one that is welcoming for the LGBT community and for all of those reasons, we'll be watching Camden very closely in this market.
Longer Shots
Behind the leading pack there is a whole host of options with seemingly every borough in the capital looking to get a piece of the action. Prices in the mid-range section include Kensington and Chelsea, Lewisham and Richmond upon Thames at 10/1 with Coral and Ladbrokes. Those three may be seen to be among the most affluent boroughs in the capital but will that count against them?
Following on, Bexley, Brent and Croydon are all at 12/1 with Coral and Ladbrokes while Newham and Hammersmith are further back at 14/1 with the same bookmakers. There is a whole host of options here and upon reading the press, there seems to be a fair deal of support for Ealing who are on offer at 16/1 with Coral and Ladbrokes.
The organisers behind the Ealing bid stated that there is 'no one identity here' meaning that it is a diverse region of cultures and it's also one that hosts many arts festivals in any given year.
As we continue to move through the list there are some rank outsiders and bringing up the rear are Hounslow and Merton at 25/1 and Harrow and Enfield at 33/1. Once again, those figures are with Ladbrokes and Coral.
Those four are some way out of the centre of London and in the early stages of this initiative it may be that the organisers are looking for something a little more central.
Verdict
There's certainly a lot to play for here and that's why we have so many contenders for the first two London Borough of Culture awards. The winners will each receive over £1m in funding in order to host events and initiatives across the calendar year. Those events will attract visitors to the area and it's clearly going to be a big boost for the region's economy but how do we pick a winner?
The Mayor's Office have stated that winner will be:
Chosen based on their artistic vision and ambition to deliver outstanding cultural initiatives in their local area, putting communities at the centre of the programme's design and delivery.
In a sense, that could cover every borough that has been mentioned in this round up and it's a tough one to call without any previous trends to consider. You have to second guess the organisers to an extent and if we are going to make a call, the two names that stand out are Greenwich and Camden.
It's hard to imagine that the judges would pick identikit boroughs for the first two years so the winners would need to offer something different. Greenwich is rich in tourist attractions while Camden is multi-cultural and at the centre of so many different arts movements in the capital.
It's a punt of course but both boroughs have strong claims.
Best Bets:
Greenwich to be named London Borough of Culture for either 2019 or 2020 at 7/1 with Ladbrokes
Camden to be named London Borough of Culture for either 2019 or 2020 at 8/1 with Coral